Renewed ElarScan A2 remains an affordable and effective scanner for business digitalization
Renewed ElarScan A2 remains an affordable and effective scanner for business digitalization
The multimillion army of office scanners has long won institutions all over the world. Today, flatbed document scanners and multifunction devices (MFPs) surprise no one — they live in every office. But for fastened documents and any materials in the binding there is a special class of scanning equipment — planetary scanners, among which the new ElarScan A2 stands out since it combines performance and versatility with economy.
Rooted in libraries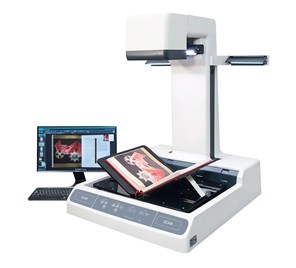 We live in the world of stereotypes and mass standards. No need to ask — which movie is the most popular now, what pants are the most fashionable, and which model of kettle to buy — all this is written on every fence, web-page, tv-screen or social media. This can be quite convenient: it saves us time when selecting the model of an iron or a car: the first option is already clear, and it is possible that it is not bad, or even quite suitable. Of course, this is OK for when you look for a consumer product. But it is not like this in the sphere of professional solutions or equipment.
Paper strives to digit
Today, despite the development of electronic business processes, the volume of paper documents often grows. In many industries, due to legislative requirements or the specifics of activity, it is simply impossible to reject paper documentation. In order to increase the efficiency of information management, various companies and institutions urgently need to digitize both new documents and accumulated archival materials. It is particularly difficult to scan stapled and bound papers and all kinds of laced documents. That is why multipurpose and high-performance devices are needed that are capable of ensuring high quality, speed and convenience of daily digitization.
Professionals have specific requirements
Earlier, to solve these problems, companies looked for office scanners. However, all sorts of multifunctional devices and «document cameras» are inconvenient since they do not have a book cradle for such work. However, many models of planetary scanners originally made for high-quality «archival» digitization of rare books and valuables in archives and libraries are simply not feasible to use in offices because of their high price (up to hundreds of thousands of dollars and even higher), slow performance, and excessive characteristics.
Obviously, a corporate office, a bank, a town hall, or an insurance company needs economical planetary scanner, which should be a convenient alternative to office devices but remain a planetary scanner with the advantages of this class of technology. For many years, professional equipment manufacturers have ignored the market demands. The progress of digital cameras in the 1990s has led to numerous attempts to build up own-made copy-stands using a camera on a tripod and a computer with self-made or simple driver software. Such DIY devices are of course unsuitable for professional use.
How to make a great scanner? First, digitize a 100 km high stack of papers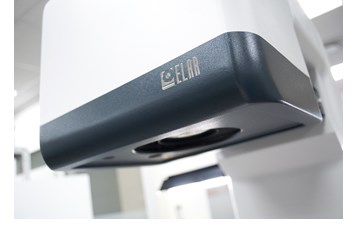 The first original ElarScan was introduced in 2013, its development was based on the many years of experience of ELAR Corporation (founded in 1992) in the production of professional scanning equipment and the digitization of vast amounts of documents — ELAR has digitized at least half a billion (!) paper documents in 25 years. Naturally, ElarScan has absorbed all the best and has become a kind of a «dream scanner» designed not only to satisfy the customers but also to re-equip the company's own huge «ELAR digitization factory».
With the production volumes growing, ElarScan became able to ensure the availability of industrial devices of this class for a wide range of professional consumers. ElarScans confirm their leadership and quality by hundreds of implementations as well as continuation of sales growth. Note that the new customers are advanced commercial organizations. Currently, many representatives of the business and financial industries reduce their costs and move to digital. They centralize corporate services, introduce unified service centres and equip them with high-performance ElarScan planetary scanners.
How Elarscan saves money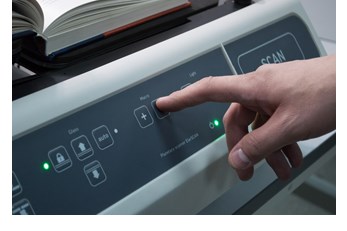 A top-20 Russian bank introduced a planetary scanner to digitize bound documents and stopped using flatbed and multifunction printers (MFPs). The effect was impressive: apart from the convenience of work, productivity increased, the amount of documents registered and filed in the accounting system increased by 40% over one month. Employees began to work faster. In addition, the bank reduced OPEX and the salary payments eliminating the involvement of staff on days off. The cost of scanning per page decreased by more than 13(!) times.
Expanding applications and industries
The demand for universal planetary scanners is also growing in the public sector. Federal bodies, municipalities, registration services, public offices efficiently fill up their databases and registries, improve a quality of service through professional digitization of bound and large-format documents, incoming and archived records.
According to statistics, about 2,000 professional planetary scanners are sold in the world in a year. Based on the results of 2016, the Russian market value is about 10% of the global one. ELAR predicts the increase of sales not only due to export growth (primarily to traditional fields of archival projects, libraries, museums and reading rooms of universities) but also due to the increased use in municipal services and corporate offices.
Elarscan's simple scanning rules
If a document can not be unbound to apply sheet-feed scanners, then the scanner should see it from above, and the original should be placed face up. Thus, operator sees what he scans, there is no need to pick up and turn over the document to flip the pages, lifting up a ton of paper per shift — unlike using any flatbed scanners or MFPs.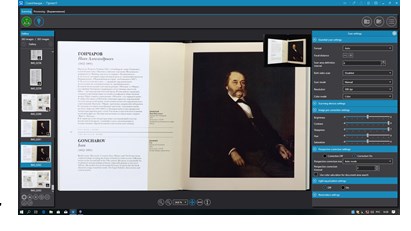 There is no need to have separate scanners for photographs, passports, albums of drawings, maps, painted papers, etc. , no need to take a photos of dimensional 3D items: even when they all are mixed in collection, a universal ElarScan can easily scan them — simply plug it in. A built-in computer running professional ELAR ScanImage software controls the scanner, functions and projects, includes a rich set of post-processing filters and output formats, including the creation of multi-page PDFs with text recognition for 49 languages, etc. You can send ready-to-use collections or electronic folders of checked, modified, and indexed documents directly from the scanner to the server and the Internet.
For comfortable work, the scanning time itself should be much less, than time needed to turn the page over or replace the original. ElarScan has precise laser focusing and high-quality scan takes only a second.
When digitizing documents, it is often necessary to get the maximum possible magnification of a single fragment or an important element. Buttons controlling the macro-module on the front panel of ElarScan allow enlarging a fragment or an object to the maximum optical resolution in a second.
Stylish look and excellent ergonomics
ElarScan is constantly improving but the years 2017-2018 have become special. In collaboration with the famous design studio, ElarScan created a new design that fundamentally changed its appearance. The sensor console made the scanner control very user-friendly and intuitive, and the cradle became even more versatile and reliable.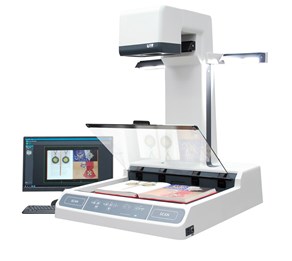 New modifications appeared including the FGM (flattening glass-motorized) model with automatic contact glass and motorized cradle. It is a new level of speed and ergonomics of digitizing bound and book originals, including precious and misshaped historical papers.
Advanced and renewed remains affordable
The manufacturer has managed for several years not to raise the ElarScan price at the same time providing fundamental improvements, design upgrades, and new major professional firmware releases. In the future, at least inflationary price increases are inevitable, but for the time being, the vendor's aspiration to expand sales and maintain ElarScan's position as «the most affordable and versatile of powerful professional» scanners remains fundamental. We'll see what time will do.