ELAR ScanImage
Профессиональное программное обеспечение для управления сканированием и обработки изображений. Предустановлено на все сканеры ЭларСкан.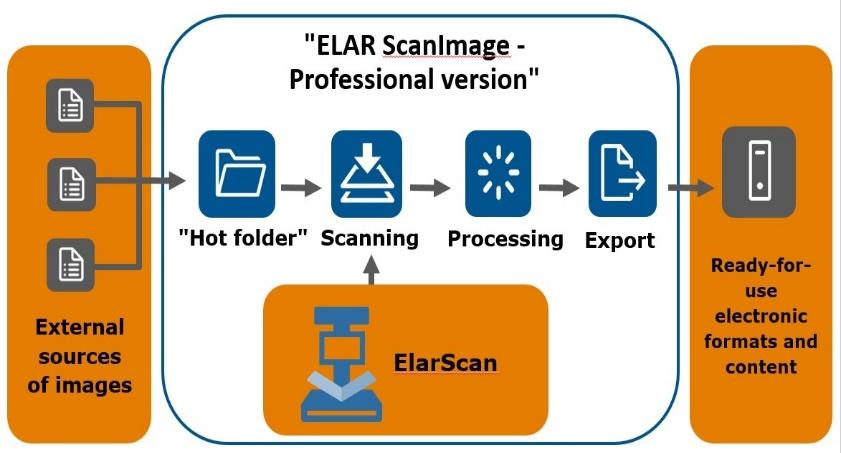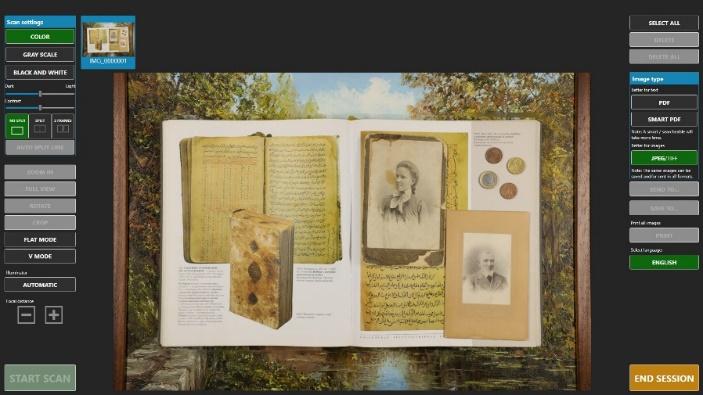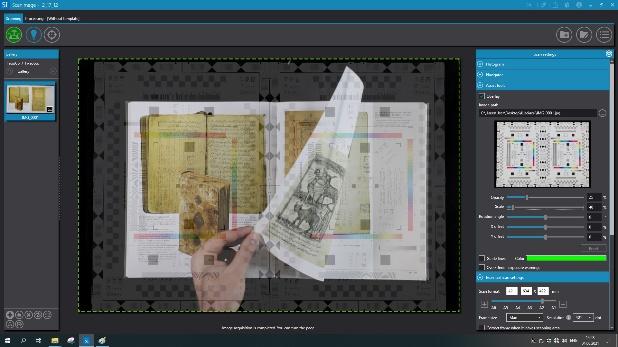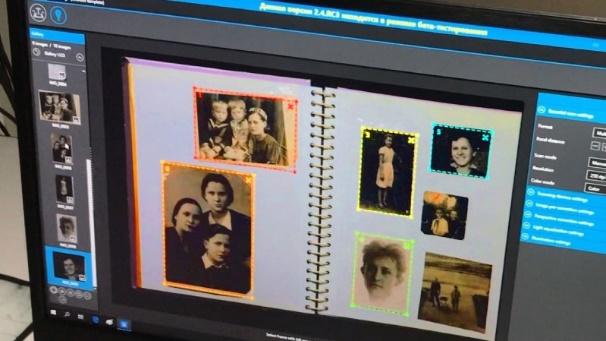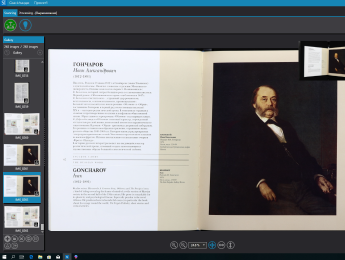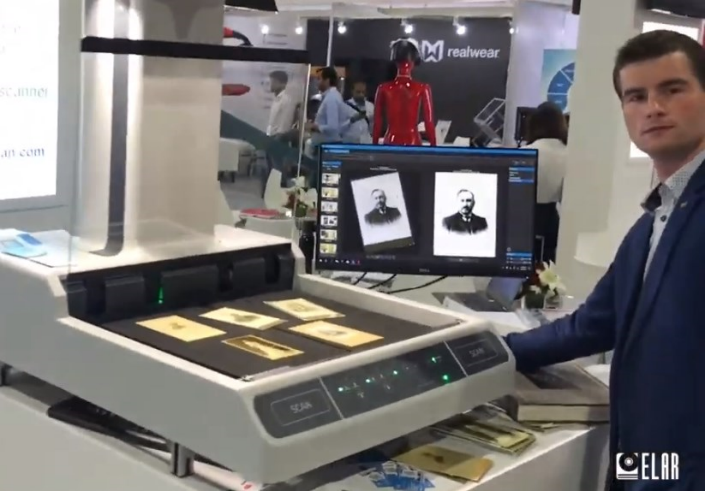 "ScanImage-Professional version" software is an advanced software package that combines a management of ElarScan scanners and automating the key stages of documents digitization workflows. Processes from scanning, importing and batch image processing to formation of ready-to-use electronic formats are supported, a wide range of intelligent filters and image post-processing functions are provided.
"ScanImage-Professional version" is an additional software for all models of ElarScan scanners, that used to maximize the wide possibilities of scanning equipment and to automate scan workflow, for professional high-performance digitization, including the most complex originals and items.
The system provides the ability to organize and control the quality of digitization work, including the use of multiple scanners and external image sources. Batch post-processing of images is supported, including the wide set of quality enhancement filters, text recognition, conversion and export of final formats ready for use. To manage works and perform resource-intensive operations, the system can be installed on a dedicated computer with Windows or Linux OS.
ElarScan management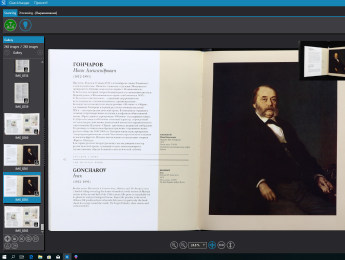 "ScanImage-Professional version" arranges integrated control of software and hardware functionality of ElarScan scanners. It provides setting up the scan modes, launching of digitization processes, control of motorized elements (glass, cradle, zoom) and software tools for image processing and post-processing, including, among other things, an intelligent algorithm for laser 3D page curvature correction and a wide range of procedures used both on scanning stage, and before scanning - using live preview of the scanned original. Color management is implemented, including an applying of ICC profiles.

Modern intuitive interface provides easy access to all tools and functions. To use ElarScan scanners with a touch-screen monitor, the ScanImage software supports a simplified user interface, convenient for self-scanning by visitors of reading rooms and public access zones.
Project and user profile management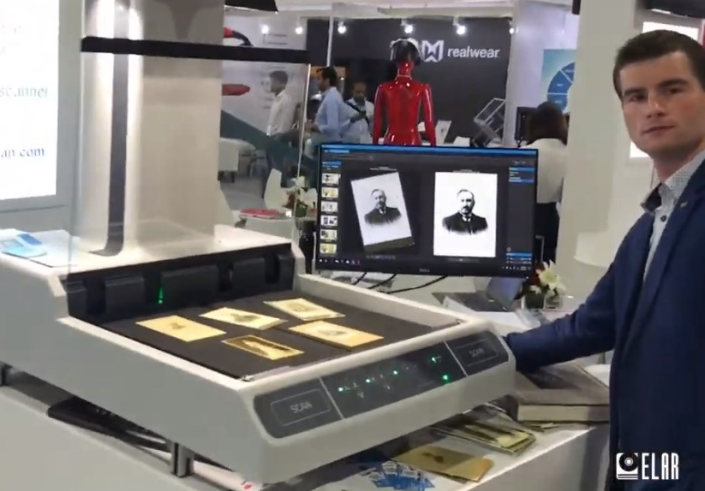 The operator can save selected optimal sets of settings as individual "profiles" for subsequent use for similar documents. Each started scanning "project" is registered and can be completely copied to other ElarScans for joint work with common settings, and - at any stage of execution - exported (transferred) to another ElarScan at any stage of execution - together with already made scans and their post-processing improvements.
Digitization workflow management
The ScanImage-Professional software provides parallel execution of several projects with individual settings for various categories of documents, combining scanning management with the processes of preparing, processing, verifying and exporting images in a single system. A "common entry point" is implemented for collecting and unified processing of images from various scanning devices. Both batch loading of images from external sources and setting up automatic import of files into a "hot folder" are possible.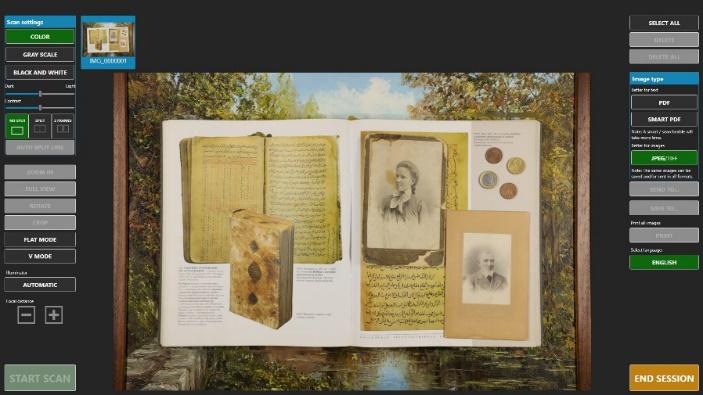 The system provides batch processing, auto-naming control, creation of METS/MODS metadata and file cataloging in a folder structure created immediately during the scanning phase. The action builder by detecting barcodes and separator pages is used.

To manage jobs and perform resource-intensive operations, including text recognition, quality control, exporting output formats to external systems, the ScanImage-Professional license can be installed on dedicated computers running Windows and Linux.
Extensive set of intelligent scanning and post-processing functions
The software "ScanImage-Professional version" includes a wide range of intelligent functions for scanning, managing projects and user profiles, post-processing of images, including: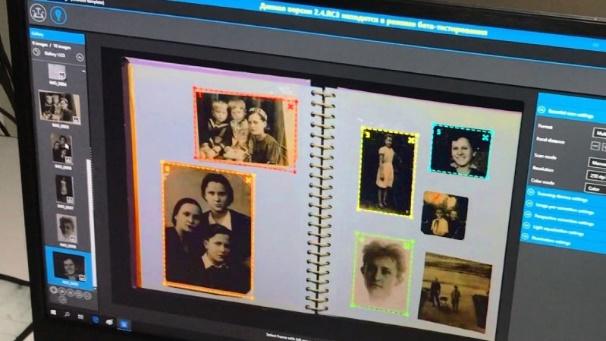 Preprocessing scans based on live preview. ElarScans under ScanImage-Professional perform useful imaging operations in LiveView mode - before scanning, including selection of up to 20 areas (fragments) for simultaneous FreeFrame-scanning, automatic formatting, multi-masking, pagination, cropping, etc. Put several contrast objects onto the cradle - the system will automatically detect each one and create separate files by one scan.
Built-in OCR. In streaming post-processing mode, ElarScan automatically recognizes text in 50+ languages and creates PDF/A files with a text layer and full-text search capability.
Virtual assistants. Translucent templates of previously scanned targets or documents and a grid of guidelines superimposed onto the live image on the screen help the operator to position correctly the original on the cradle.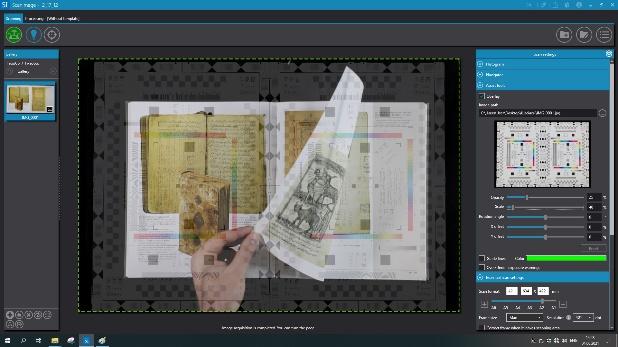 Laser 3D-correction of page curvature. If it is not possible to use flattening glasses, the laser-based system will conduct a three-dimensional analysis of the original in real time and help eliminate the curvature of the scanned images.
Post-processing editor. More than 30 built-in filters are available to set up automatic batch post-processing, using also at «night mode» and in the background - including correction and image enhancement, the formation of output file formats. The system allows you to set up «hot folders» for collecting and collaborative post-processing of images from multiple devices, including document scanners of other types and manufacturers.
Specifications
Versions of «ELAR ScanImage» software

«ScanImage-Basic version» software for ElarScan control
«ScanImage-Professional version» software (option) includes batch scanning functions, project and user profile management, filters and post-processing procedures, external image import, multilingual OCR and others. Can be installed on a separate computer.

«ScanImage - Basic version» functions

Batch scanning of documents, sections or books of various formats,
Geometric image correction when scanning with an original opening angle of 90, 120 and 180 degrees,
Access to camera software settings and save them in a scan job (Project),
Automatic detection of original size,
The ability to quickly jump to any scanned image,
View thumbnail image of all scans, ability to move the scanned image within the project with automatic re-numbering,
Deleting and replacing a failed scanned images,
Saving images to hard drive or to a network folder,
Auto-naming a files using variables and their combinations:
– name of computer,
– counter with the specified number of digits,
Scan start:
– using the scan start button,
– using software interface.

Additional functions of «ScanImage-Professional version»

Interactive optical zoom with feedback and software control with the ability to automatically adjust a maximum resolution to selected scan size,
Splitting a scan into two separate pages and then saving it as two separate files,
Setting up Projects (jobs) and Profiles, allowing you to optimize the work of the operator,
Export/Import of scan Projects in order to preserve and/or transfer the jobs to other ElarScan or PC,
Free masking mode (selection of fragments) by real-time live preview,
Loading images in JPEG format from external sources by the «Hot folder» mode,
Switching from scanning mode to processing mode and vice versa at any time without the need to save current changes in image files,
Setting up and applying the ICC profiles,
Geometric image correction,
Access to camera software settings and save them in a scan Project,
Automatic detection of original size,
Ability to save raw images,
Archiving in ZIP format for sending by e-mail,
Saving images in cloud storage,
Rich auto-naming of scans using variables and their combinations:
– Username,
– image size in pixels,
– resolution in dpi,
– date in the format dd.mm.yyyy,
– counter with the specified number of digits,
Starting a scan:
– manually, through the software interface,
– by interval (after a specified period of time),
– using the automatic page turn detection function,
Recognition of a barcode on a scanned document, using a barcode to name a target folder,
OCR to PDF with text layer (support for more than 50 languages),
Batch post-processing of uploaded images from external sources,
Correction of brightness, contrast, saturation, gamma,
Image sharpening,
Image alignment,
Removing black borders and warps,
Removing the background of an image,
Removing debris from an image,
Removal of background "garbage", noise and spots for b/w images,
Scaling as a percentage of the original size,
Enlargement, reduction and rotation of the image,
Text lines alignment,
Clipping borders by the field,
Clipping borders by meaningful information - cropping the scan image by text/picture field,
Replenishment of edges by adding an extra margin and aligning edges using sheet geometry,
Block clearing - deleting an image inside or outside the selected area,
Masking the operator's fingers,
Light level equalization,
Image centering,
Applying an electronic stamp to the image,
Saving multiple areas of an image as separate files (multi-masking),
Rotate by a given angle (multiple of 90 degrees or arbitrary),
Mirroring - reflecting the image vertically or horizontally,
Converting color and gray images to b/w without losing meaningful information,
Inversion of colors,
Setting up and preservation of a sequence of image processing operations (processing profiles),
Active post-processing mode - applying the processing profiles to coming images,
Return to the original image (undo) with the ability to undo all or each individual image processing filters

File formats

«ScanImage-Basic version»:

JPEG,
PNG,
TIFF (single and multipage),
PDF raster (single and multi-page),

«ScanImage-Professional version», additionally:

BMP,
GIF,
JPEG2000,
Searchable PDF (single and multi-page),
PDF/A (single and multi-page),
RTF (single and multi-page),
TIFF uncompressed (RAW),
TIFF 48 (single and multipage)
We reserve the right to make changes without prior notice. Specifications and package contents may vary by region. Contact our sales/support partner for details.