New ElarScan sales and service center in Capital of Uzbekistan
03/23/2021
In the center of Tashkent N-COM CENTRAL ASIA opened a showroom where a new model of the universal planetary scanner ElarScan A2-400 is showcased. The company provided the first demonstrations of the latest equipment and a series of seminars and presentations for organizations and enterprises in Central Asia are being prepared.
You can now get acquainted with the most modern digitization technologies from ElarScan and get professional support in one of the oldest cities in Central Asia – Tashkent. In partnership with ELAR Corp., N-COM provides the infrastructure for the digitalization and preservation of history by creating high-quality copies of original documents and providing convenient access to them.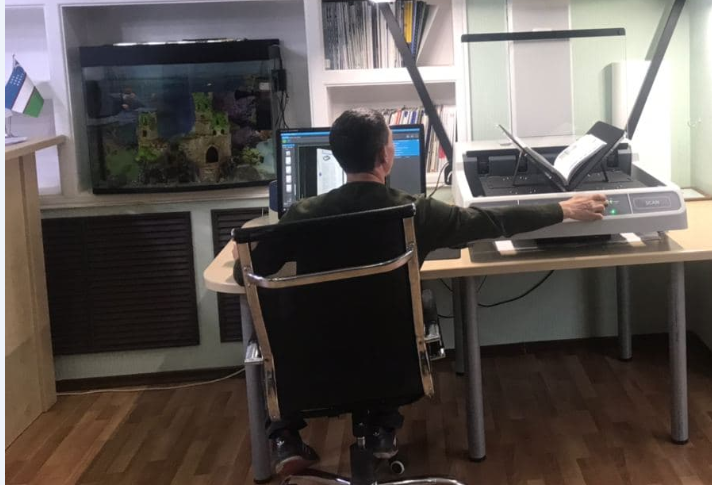 "Our customers are interested in using the latest high-tech ElarScan equipment. The challenges of digital transformation are now facing not only by national archival and library centers. Now digitalization is a key factor in the development of municipalities, courts, universities and many other organizations.

ElarScans are specially designed for high-performance digitization of any documents - from old archives to modern client files of banks, from drawings and newspapers to museum collections. We offer the complete range of ElarScan scanners and invite all professional customers to get acquainted with modern digitization technologies," said Nuriddin Khabiyev, general director of N-COM.
The company "N-COM CENTRAL ASIA" was founded in 2011, has implemented complex projects and gained valuable experience in the industry. The company employs highly qualified managers and engineers who have all the necessary resources to implement modern solutions, including the creation of electronic archives and knowledge databases, document and data management systems, contactless access systems, intelligent data warehouses.