ElarScan A2/C2 KS
Популярен модел за дигитализация с или без стълко за притискане на оргиналите.
ElarScan A2-KS е планетарен скенер за ежедневна дигитализация на потоци от книги, списания, каталози, вестници и различни видове подвързани и плоски документи до формат A2 +. Безконтактният метод на дигитализация елиминира механичното въздействие върху оригиналите, осигурявайки тяхната безопасност.
Основните характеристики на модификацията на KS са плоско сгъваемо стъкло и автоматизирана люлка, позволяваща внимателно притискане на оригинал към стъклото отдолу с помощта на натискащото управление на силата на натискане.
Дизайнът на оптичната система на скенера включва RGB сензор, позволяващ висококачествена дигитализация с възможност за автоматично фокусиране и автоматично настройване на оригинали с различна дебелина и текстури. Скенерът се предлага с две опции на оптичната система:
ElarScan A2-400KS има професионална CMOS RGB 24 MP камера и е идеален за ефективна дигитализация на текстови документи и книги с добро качество.
ElarScan A2-600KS разполага с професионална CMOS RGB 50 MP камера, която разширява възможностите за използване на скенера за цифровизация на графики, повредени документи и текстове с ниска контрастност.
Модификацията ElarScan A2-KS е оборудвана с V-образна автоматизирана люлка за книги с независимо регулиране на плочите спрямо различна дебелина на оригиналите и допълнителна вдлъбнатина за гърба на книгата. Везната може да се отвори при 90, 120 до 180 градуса и е проектирана да сканира оригинали с дебелина до 10 см и тегло до 15 кг. Отделно повдигане на плочите позволява сканиране на оригиналите, повдигащи дясната и лявата страница отделно. Всички основни елементи на дизайна на люлката на книгата са изработени от метал и имат висок ресурс на работа при максимално натоварване.
Скенерът има модул с налягане за автоматично затваряне на стъклото, който позволява ефективно сканиране на оригинали при 180 градусов режим по време на поточно сканиране. Модулът има фиксиращи механизми в хоризонтално и вертикално положение, което позволява сканиране и без стъкло.
Работата със скенера е изключително удобна и не изисква специални умения от страна на потребителя, което позволява бързо и ефективно сканиране, обработка и прехвърляне на всякакво количество данни: потребителят трябва само да постави документа на люлката (с лице нагоре) и да започне сканирането в някой от удобните начини: използване на вградения софтуер за управление, използване на дъна за сканиране на корпуса или чрез спускане на стъклената плоча.
ElarScan A2-KS е напълно автономно устройство с богат на функции вграден софтуер за масово сканиране и последваща обработка на електронни изображения. Електронните изображения се записват директно в паметта на скенера, външно USB устройство или незабавно в мрежата (в личната станция, сървъра или облачното хранилище на служителя). Функционалните и технически характеристики на ElarScan A2-KS гарантират най-обширните приложения за скенери. Департаментите, компаниите и институциите могат да го използват в обществената зона, а също така да организират масово цифровизиране на документи в поточен режим.
Едно от най-важните предимства на ElarScan A2-KS е цената му: скенерът е един от най-евтините планетарни скенери формат A2 + на пазара без консумативи, които трябва да се променят по време на работа. Следователно скенерът е изключително рентабилен с висока степен на надеждност по време на интензивна работа, а набор от функционални характеристики, технически и експлоатационни характеристики и софтуерни възможности в основната конфигурация го поставя на няколко нива по-високо от най-близките си конкуренти.
Overview
ElarScan A2-KS is a standalone scanning device that can operate without connection to a workstation. The scanner can save the received images to external USB drives or to network folders due to the six built-in USB ports and the Gigabit Ethernet network interface.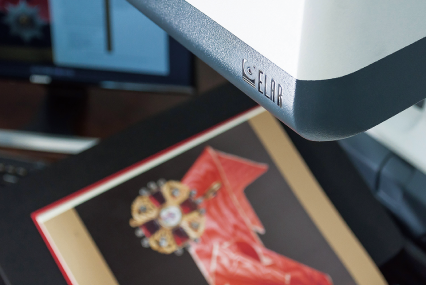 ElarScan А2-KS has a camera with high resolution CMOS RGB sensor with high depth of definition and a macro module, which allows digitization of small objects and individual areas of the originals with high optic resolution without software interpolation. To ensure accurate focusing of the optical system on non-contrast originals, the scanner has a built-in laser module for focus area illumination. The scanned original is displayed in real time on a FHD widescreen monitor.
The scanner has an adaptive LED repro type illumination system that does not have harmful ultraviolet and infrared effects on the originals and ensures even distribution of light on the surface of the original. The illumination system used in ElarScan enables almost complete elimination of ambient light, glares and shadows even when using glass plates. The illumination system is activated during scanning, but it can be set to a constant mode. The lamps offer an option of adjusting the light stream direction.
The built-in original hold-down system with a flat fold-back tempered glass plate and a fixing mechanism in the horizontal position allows for effective evening out of the originals' surfaces. If you need to work without the glass plate, it can be fixed in the vertical position.
Cradle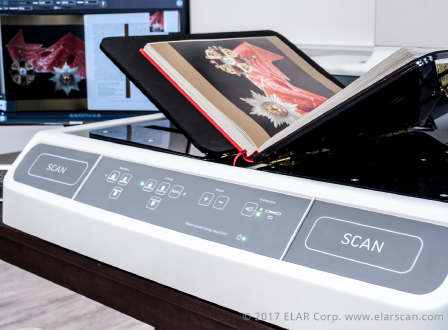 ElarScan А2-KS has a V-shaped automatic book cradle with different placeholder opening modes and angles. This allows the scanner to digitize various types of originals in formats up to А2+: from a flat document to books and stapled documents up to 10 cm thick and weighing up to 15 kg, including incomplete or partial disclosure.
The cradle has opening angles of 180 to 90 degrees, at the same time the halves can be lifted separately and slid together and apart; when apart, there is a recess under the book spine in the cradle, which eliminates the risk of damage. The cradle is also fit with a mechanism for automatic smooth adjustment by height. The cradle is controlled from the scanner panel.

Embedded software
The high quality, high color accuracy and absence of geometrical distortions of electronic images when scanning on ElarScan A2-KS results from two main factors: modern optical system and rich embedded software processing capabilities.

The embedded ScanImage software is a complete set of tools that control all stages of digitization: scanning, image processing, quality control and indexing of images. There is a possibility of administering and controlling the users' work, there is a configurable file directory structure, and also control of the usage statistics.
More about ScanImage software...
Additional modules and accessories
The design of ElarScan А2-KS scanner uses all the most advanced technologies and materials. The housing of the scanner is made of high-strength composite plastic fastened on metal base to impart overall strength and durability of the structure. This is especially important for scanning when the maximum protection from parasite vibrations is required.
The control panel of the ElarScan А2-KS scanner is made with consideration of the many years of accumulated experience of book scanner production, the selected dust and moisture protection structure has LED indication of the operation modes. All the panel buttons have visual icons and symbols in English.
For user's convenience, scanning can be launched in several ways:
with the scan start buttons on the scanner panel;
through the embedded software interface;
by interval (after a specified period of time);
by automatic page flip detection function;
with the control footswitch (option);
by pressing the original with the glass plate;
Technical specification
Scanner type

Planetary scanner
Self-service principle (by user)
Standalone system with built-in computer
Desktop installation

Scan system

ElarScan А2-400КS — industrial CMOS RGB camera

ElarScan А2-600КS — industrial CMOS RGB camera

Max. format

A2++ (660 x 450 mm) for flat originals without using the glass plate

A2+ (625 × 420 mm).

Color depth (scan)

In color - 42 bits

In grayscale - 14 bits

Black and white - 1 bit

Color depth (save)

In color - 24 bits

In grayscale - 8 bits

Black and white - 1 bit

Scan time

0.5 sec irrespective of the original size

Full cycle time *

4 sec irrespective of the original size

Scan resolution

ElarScan А2-400KS — 300 – 600 dpi

ElarScan А2-600KS — 400 - 800 dpi

Embedded software functions

Batch scanning of documents, sections or books of various formats, providing stream download of image files of documents;
Automatic loading of images from external sources by hot-folder scenario;
Switch from scan mode to process mode and back at any time without having to save the current changes for downloaded files;
Automatic geometric image correction for scanning with opening angles from 90° to 180° degrees inclusive;
Set up of scan and image processing profiles that optimize the work done by operator;
Export / import scan profiles to save and restore settings;
Access camera software settings and save them in the scan profile;
Automatic detection of the original format;
Ability to quickly switch and open any scanned image;
View a thumbnail image of all scans;
Ability to move the scanned image within the project with automatic numbering;
Automatically split the spread into two separate pages and then save as two separate files;
Free masking mode during live preview;
White balance setting;
Removal and replacement of unsuccessfully scanned images;
Save images to the hard drive;
Save images to a network folder;
Archive to ZIP format for sending scanned images by e-mail;
Save images to cloud storage;
Ability to set-up for auto-naming files using the variables;
Start scan options:

Manually, through the software interface;
By interval (after a specified period of time);
By automatic page flip detection function;

Barcode recognition on the scanned document, using the code for file naming;
PDF recognition for context search (supports up to 30 languages);

Electronic image processing

Processing downloaded images from external sources, including multi-page images in MTIFF and PDF formats
Correction of brightness, contrast, saturation, gamma;
Sharpness correction: image enhancements;
The alignment of the images;
Remove black borders and warps;
Remove image background;
Remove debris from image;
Automatic removal of optical "debris", noise and stains;
Scaling as a percentage of the original size;
Zoom in, zoom out and rotate the image;
The alignment of the lines;
Crop borders on the field;
Crop borders by meaningful information: crop an image by text and other meaningful information on it;
The alignment of the edges by adding additional fields and the alignment edges using the geometry of the sheet;
Cleaning a block: delete the image inside (outside) the selected area;
Masking the fingers of the operator;
Equalisation of light level;
Centering an image;
Applying an electronic stamp on scanned images;
Saving multiple image areas into separate files (multi-masking);
Rotate at a specified angle (multiple of 90 degrees or arbitrary);
Mirror image: mirror the image vertically or horizontally;
Convert color and gray images to black and white without losing meaningful information;
Color inversion;
Return to the original image with the ability to cancel the application of all or each individual image processing filter;

Control interface

Dust and moisture protected control panel with LED indication and two fast scan start buttons
Widescreen monitor for real-time preview and work with the scanner software;
Additionally, integrated buttons to control the macro module;

Start scan options:

scan start button
using the embedded software interface
by interval (after a specified period of time)
by automatic page flip detection function
with control footswitch (option)
by the glass plate lowering

File saving

direct recording to USB 2.0 - 3 ports, USB 3.0 - 3 ports;
by sending to the network directory through the connection via the Gigabit Ethernet interface;

Characteristics of originals

Weight up to 15 kg

Up to 10 cm thick with glass,

up to 15 cm without using a glass plate

File formats

BMP;
GIF;
JPEG;
JPEG2000;
PNG;
CR2 (RAW);
TIFF (single and multi-page);
RTF (single and multi-page);
PDF (single and multi-page);
PDF/A (single and multi-page).

Book cradle

automated V-shaped book cradle with independent manual adjustment of the angle of inclination of the panels;
cradle placeholders with automatic balancing to the book spine thickness;
opening angle of 90, 120 and 180 degrees inclusive;
flat fold-back frameless tempered glass plate with the manual drive and the fixing mechanism in horizontal and vertical position;
the scanner has a mechanism for automatically unlocking and raising the glass after scanning
adjustment control of smooth cradle placeholder height change from the scanner panel;

Additional modules and accessories

footswitch
dust-proof covers
ergonomic support with the floor-standing monitor and keyboard holder
the sensor monitor (recommended when using the scanner as a "self-service stand")
Wi-Fi wireless interface (802.11a/b/g/n)
external CD/DVD drive

Warranty

standard warranty: 12 months, starting from the date of equipment installation;
extended warranty: 24 months, starting from the date of equipment installation.

Other

dimensions: (LхWхH) – 940 х 840 х 1130 мм (considering the repro lights)

weight: 69 kg

power: 220 V, 250 W;
* — Indicated time depends on the selected settings and the post-processing functions used; The manufacturer reserves the right to make changes in the design and configuration of the product that do not reduce the quality and technical characteristics of the equipment.